Today we will continue on with "Love is in the Air" and talk about the new release "Made in Mason City Season 2!"



"Love is in the Air," the title speaks for itself! People can find love through "first sight" or the reguler way! Right now during the story, Duong Trieu Vu and Luong Tung Quang is attending the Princess's Festival, and like every love story one of them will fall in love with the princess. Just like "Romeo and Juliet." But this story is different, the main characters fall in love with one another, girls and guys and during their path they meet evil people on the way. Which will mess the love up! Am I right Fantasy Believer!?



Thuy Tien: "Made in Mason City Season 2" was released on July 27th 2007! The poster says it all for the story line! Jack wants revenge and wants to make it fast and good!!!
"Made in Mason City Season 1" ended with a shocking end with Minh Tuyet getting shot, leaving the readers and fan suspicious of whats going to happen to her. B/c of the title " A Fallen Rose," some said that Minh Tuyet died, but she just got shot in the butt. Even almost to death, Minh Tuyet was still the same and was screaming @ the medics when put into the ambulance.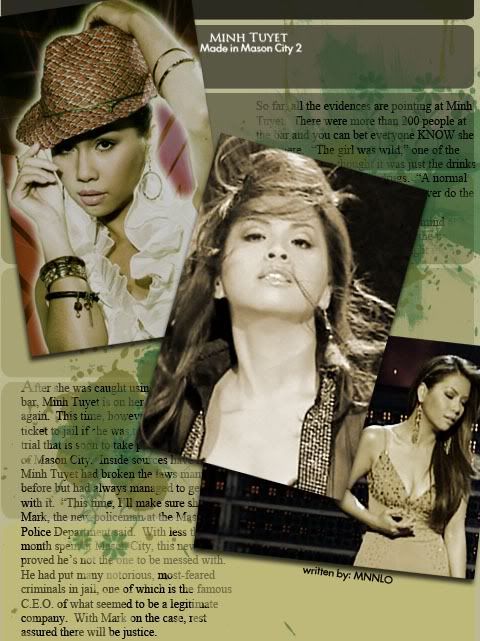 The posters that you all see of the 4 main characters are the promo posters! These are created by the one and only MNNLO!! They are very talented and now here is the "OFFICAL" trailer!
"Made in Mason City Season 2" is back and better an ever! More action and more suspences! You can read this fanfic @: http://www.mnnlo.blogspot.com/
Thuy Tien: Thats the end of todays news! This is ENT 247 NEWS! Thanks for listening! BYE!